El otro día que me dije iba a poner en orden el blog y ser responsable y todo eso terminé procastineando. Lo normal, ya saben. Y de repente
Christy @Christy's Book Addiction
salió con un book tag/encuesta bastante simpática, por supuesto tenía que hacerlo.
Consiste en 10 preguntas que van siendo contestadas dependiendo del número que le toque. No lo voy a saber explicar muy bien, se entenderá mejor cuando lo vean desarrollado.
10. Libros en tu wishlist que ya se publicaron (Books already released on your wishlist)
The Theory of Everything de Kari Luna
The Whole Stupid Way We Are de N. Griffin
Infinite Sky de C.J. Flood
That Time I Joined the Circus de J.J. Howard
Dead Ends deErin Jade Lange
The Brokenhearted de Amelia Kahaney
Aristotle and Dante Discover the Secrets of the Universe de Benjamin Alire Sáenz
There Will Come a Time de Carrie Arcos
Love and Other Foreign Words de Erin McCahan
The Museum of Intangible Things de Wendy Wunder
9. Portadas Favoritas (Favorite Covers)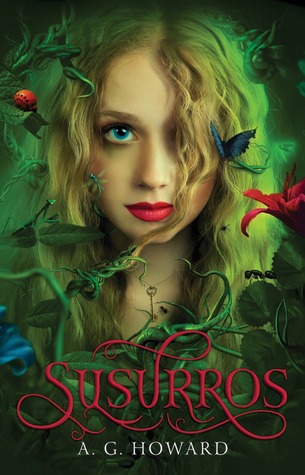 8. Libros todavía no publicados que mueres por tener(Not yet released books that you can't wait for)
Silver Shadows (la próxima semana!!!)
Isla and the Happily Ever After de Steph Perkins (con cariño ♥)
Ensnared de A.G Howard
In a Handful of Dust de Mindy McGinnis
Girls of Summer #1 de Morgan Matson
Bound by Flames (Night Prince, #3) de Jeaniene Frost
I Was Here de Gayle Forman
Embassy Row de Ally Carter
7. Autores de compra inmediata (Auto-buy Authors)
Morgan Matson
Meg Cabot
Jeaniene Frost
Gayle Forman
Richelle Mead
Stephanie Perkins
Ally Carter
Adrian Ivashkov ♥
Samuel K. Roth
Morpheus
Travis Maddox (no lo supero ¿OK?)
Bones
Ash - The Iron Fey
5. Libros que no te cansas recomendar (Books you recommend the most)
Toda la serie Vampire Academy
La serie Morganville Vampire
El hombre que fue Jueves
La serie Gallagher Girls
4. Libros que creíste te gustarían pero no (Books you thought you'd like but didn't)
La serie Lux, a duras penas llegué hasta el segundo
Insatiable de Meg Cabot
Buscando a Alaksa de John Green - ñeh
Cruel Beauty de Rosamund Hodge
3. Libros que te hicieron llorar (Books that made you cry)
Before I die </3
Clash <-- No se me ocurre otro libro
2. Libros que nunca leerás (Books you never plan on reading)
Harry Potter
Don quijote xD No puedo, lo he intentado no puedo!
1. Género favorito actualmente (Favorite Genre at the moment)
Aunque no lo crean, es a lo que en inglés categorizan como Middle School.
¡Ahora te toca a ti hacer tu lista!